Ascertaining Barriers for Compliance: policies for safe, effective and cost-effective use of medicines in Europe
Download
final report of ABC Project
Download
ABC Project Executive Summary
Download
ABC Project Taxonomy of Patient Adherence
Download
presentation from European Parliament summarising results of ABC Project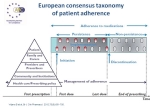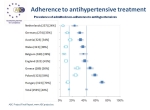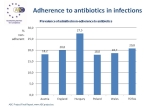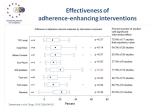 Research results unequivocally point at non-compliance as a major barrier to realise the benefits of evidence-based treatments, both in the case of long-term treatment, as well as short-term medication, e.g. antimicrobial therapy. The lower the compliance, the poorer the outcomes, and the less cost- effective treatments become. Moreover, non-compliance is accompanied with increased health services utilisation, and increased healthcare expenditures.
With its prevalence reaching 50% of patients, medication non-compliance is a global issue of major public health concern. This is reflected in a recent report by the World Health Organisation which calls the non-compliance "a worldwide problem of striking magnitude" (WHO 2003). However, this problem is especially relevant to European Union countries, where access to healthcare services is good and their utilisation is high. In such circumstances, no further improvement in the effectiveness of therapeutic and prophylactic medication can be realised without addressing patient non-compliance.
Considering the interest of this topic to their missions and activities, a selected number of European institutions aimed to develop strategies needed for European policymakers to effectively change the behaviour of both patients and healthcare professionals, in order to enhance patient compliance across Europe. Consequently, an international research consortium was constructed and a project was submitted to European Commission for funding within Seventh Framework Programme for research and technological development (FP7)
Principal aims of the project are:
To obtain European consensus on terminology used in the field of non-compliance
To identify the determinants of non-compliance with short-term and long-term treatment
To obtain insight in current practices of compliance management
To assess the effectiveness of compliance-enhancing interventions
To estimate the cost-effectiveness of compliance-enhancing interventions
To develop policy recommendation for promoting patient compliance in European healthcare

The project is funded by European Commission within the Seventh Framework Programme for research and technological development.




The ABC project was designed for the period 1 January 2009 – 30 June 2012.